Healthy food is an important factor in all healing. Your sleepritm, digestion, emotional state and mental health are all related to the meals and snacks you take.
As a holistic therapist and over 20 years experience as a private dining chef & culinary writer I combine mindfulness in conscious cooking classes to teach how to balance your energy system to feeling fit & energized. If we understand that everything is energy and we ourselves are energy then it's important to learn how to balance your energy system.
You can request for the following services:
1) Food for the chakra's retreat
2) Cookingworkshops
3) Private dinners 
4) Storydinners
More about my culinair background .
What to learn?
– Find inspiration & learn how to prepare healthy gastronomic recipes at home
– Learn how to balance your energy system with certain food & mindful excercises?
– Which food boost your immunesystem
– Learn how to stay healthy & optimize your immunesystem.
– Learn how to present amazing meals.
Vegetarian or Vegan food
In my workshops I focus on vegetarian or vegan food. Although i still like fish and have been eating meat as well. I experienced among the participants of my workshops its the best to focus on vegetables. My experience in Ayurvedic cooking and especially my years of cookingclasses at the Michelin star restaurant Librije gave me the most beautiful inspiration for gastronomic veggie & vegan recipes that I like to share in my classes with a Denicious twist.
More info? 
Please send an email to denise@denicious.nl or fill in the contactform? Click here
My published culinary books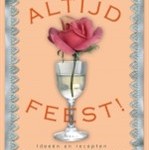 The development of Storydinners is my specialty and about that I wrote my first culinary book 'Altijd Feest' ("Always Feast' published by Terra Lannoo 2008) . It consist of stories, recipes with pairing wine & styling tips to create a D.I.Y storydinner.
My second book 'het geheim van de chefs' (the secret of the chefs 2009, published by A.W. Bruna) are interviews with the 12 best Dutch Michelinstar chefs in the Netherlands. In this book they share their passion, their inspirations and their secret adresses in the culinary world.
Both books are still available via www.bol.com. Only in dutch language.
Voor laatste nieuwtjes of inspiratie volg me op:
Insta: denicious_mindful_food
Facebook: deniciousNL